Optiray
Optiray is a low osmolar, low viscosity new generation contrast agent with a perfectly balanced hydrophilic structure.
Optiray is the most hydrophilic of all monomer non-ionic contrast agents.
Optiray is characterised by extremely low neurotoxicity and, above all, is very well tolerated by patients.
Optiray is intended for intra-arterial and intravenous digital subtraction angiography, ventriculography, arteriography and venography, intravenous excretory urography and for enhancing contrast in whole-body computed tomography.
Optiray is recommended for coronary artery imaging in patients at risk.
Optiray is supplied at concentrations of 240 mg/mL, 300 mg/ml and 350 mg/ml. It is filled in sterile flasks and high-pressure syringes for direct application in injectors.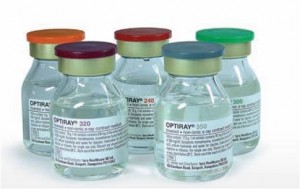 Optimark
Optimark is intended for diagnostic use in magnetic resonance imaging of the central nervous system and of the liver.