FUJI GREEN PROGRAMME
Even though Slovakia is no stranger to digitalisation, some health care providers operating in the country still rely on the "conventional" radiological products range. TATRA-ALPINE offers state-of-the-art FUJI green sensitive X-ray films and processing chemicals.
The main benefits of FUJI films include
patient and personnel radiation exposure reduced by 30 to 35%
evidently superior X-ray imaging sharpness
minimised crystal-induced radiation scattering
FUJI film properties ensure protection against common film overexposure as the characteristic curve is flattened during the advanced blackening phase, thus decelerating and attenuating the blackening process, which makes it possible to evaluate images where there is no chance of repeating the examination.
A low content of silver and a special mode of its distribution in the film emulsion minimises residual silver release during processing, effectively reducing consumption of developer and fixer solutions. Savings can be up to 30% in old processing equipment and up to 50% of developer and 70% of fixer solutions in modern equipment.
High sensitivity minimises the wear and tear of X-ray equipment, as it is operated at lower doses (3-7 log. steps),
Film properties and consistent quality help to minimise the number of rejects, thus saving material, staff work and, notably, reducing the radiation load associated with recurring examinations.
FUJI intensifying screens have a guaranteed shelf life of at least 4 years.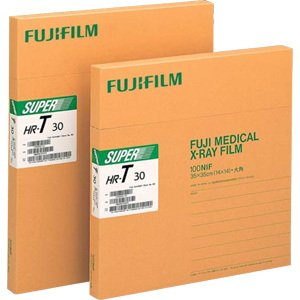 FUJI AD MAMMO SYSTEM
A modern imaging system for mammographic diagnostics. A cassette, intensifying screen, film and processor are standard components of the imaging chain.
Compared to the preceding system, AD MAMMO features a double-layer intensifying screen and a special two-layer film. As a result, AD MAMMO FINE intensifying screen guarantees maximum imaging sharpness at values ​​identical to the previously used intensifying screens (UM-MA medium). The new AD MEDIUM intensifying screens preserve superior imaging sharpness while reducing the radiation load by 30% to 35%.